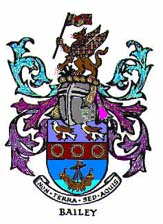 Welcome to the Bailey Family History and Web Ring Home Page!
Welcome to the Bailey Family History Website! We created this site to assist Baileys around the world in connecting their sites into one large network of information on the Bailey family. It is also home of the Bailey Family Web Ring. If you are a Bailey, or have a site related to Baileys, we urge you to submit your site for inclusion into the Bailey Family Web Ring. This will give people viewing member sites the opportunity to visit your site. Who knows, you may even find a long lost relative.

Doing genealogy research?
During the creation of this site and the Bailey Family Web Ring, we have discovered that there are many, many people doing research on Baileys and other related families. You can learn more about Bailey Family Genealogy, including the origins of Bailey families in North Carolina, South Carolina, Georgia, and Alabama. You are also invitied to choose one of the link buttons below to continue on the the next site in the Bailey Family Web Ring.

We now have discussion forums! Post your questions or help answers questions from others. So stop in at http://forums.baileyhistory.com today! It's a great tool for genealogy research!
Baileys from Bute
A family lineage and history of the James Bailey family is now available. The focus surname of this publication is Bailey, as the two known sons of James Bailey became of age in Bute County, North Carolina. We know that one son married in Bute County and strongly feel that the other did also, thus the title Baileys from Bute. Numerous other families such as Bowers, Flemings, and other intermarried family subgroups are included. It contains that information which was known about the Baileys and Flemings in Virginia. It also includes all known Baileys in today's Lancaster and Kershaw counties in South Carolina.
Order today! A limited number of copies are still available!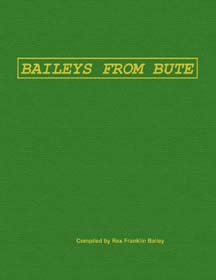 Click here to order
or for more information